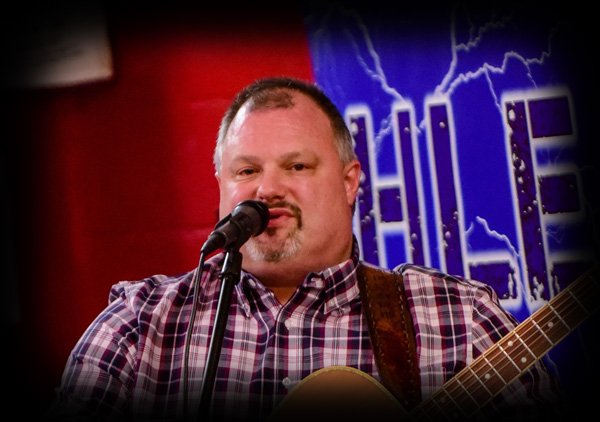 They say it begins with a song…but with Hunter Logan, it begins with a story. A story that you have never heard before and likely will never hear again. Louisiana is where it all began; Jennings, Louisiana to be exact, where Hunter was born and raised in a Christian home in the musical hotbed of the Bayou, both factors which would combine to greatly shape his unique sound over the course of his life. On his 48 year journey of singing and playing music, Hunter first recorded a gospel album as a lead guitar player at the age of 14. This early on prodigy-like (remember that word later) studio experience lead to Logan playing in numerous bands and backing up various artists on several projects over the next few years. Oh, but the studio wasn't the only place where Hunter Logan could be found during this time, oh no…as he performed live on numerous television shows, most notably the four-time "Cable Ace" award-winning program "Louisiana Jukebox", while also donating his musical talents often to charities, fundraisers and telethons.
Of course, Hunter wasn't just performing on award-winning television shows during this time but was also accumulating awards of his own, including 1998 Best of the Beat Award for "Best New Country/Folk Artist" by Offbeat Magazine, as well as being listed by the European CMA as one of the most played artists' for three straight years (1999,2000,2001). Naturally, one would expect this kind of momentum to lead Logan to the Music City and it did, where he performed regularly at the world-famous Nashville Palace for three months. After that, the uniqueness which is the journey of Hunter Logan would take a turn south…. way south as a matter of fact…to the Caribbean entertaining audiences on Carnival Cruise Lines seven nights a week for six months. This excruciating performing schedule, combined with long periods of being away from his home and family, led Logan to suddenly retire from performing in October 2004. Oh, but the best stories seem to take shape right at the end, and this one is no exception.
The end of Hunter's performing was actually a beginning, the beginning of Hunter Logan Enterprises (HLE). HLE Records (with 9 signed artists, 8 songwriters, and 22 releases), HLE Publishing (with over 200 songs), and powerhouse radio station HLE Radio (now with over 20 million logins a month), where Logan opened up the first-ever brick and mortar Christian Country internet radio station in 2012. Not long after that, the "Morning Show with Hunter Logan" was born, where it has been running live every weekday morning for nine years now. Hunter followed that up in 2014 by starting the "Christian Country Café live music venue inside the station, where artists perform live monthly.
During this time, HLE Radio and Hunter Logan have both had an amazing run, with Logan being a 10-time Radio Personality of the Year winner and HLE Radio being a 6-time Radio Station of the Year recipient. How do you wrap up a story like Hunter Logan's?
With a return to the stage and the studio, that's how! Hunter is now a member of the Christian Country Living Legend Band Cross Country, and for the first time since releasing his last swamp pop album in 2005, he took the opportunity of the tumultuous year of 2020 to start writing songs again, this time of a Christian Country nature. In March 2021 his songwriting efforts paid off in a big way with the release of his fourth album and first-ever Christian album called "The Prodigal", which is a testimony of his life…a life that has led him on a one-of-a-kind journey from Christian home to musical prodigy, to the bars, into sin, to the Caribbean, and then back to Christ again.
With Hunter Logan, it all began not with a song, but with a story…a story that still continues today.